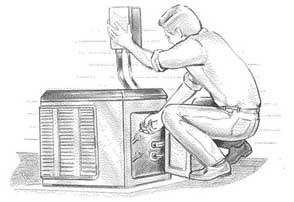 The average age of an air-conditioner is 12 years. Hutchison Mechanical Heating & Cooling has certified technicians on hand to service all brands of air conditioning units. Many older a/c units produce less than half the efficiency as newer models. There will be many things to consider when faced with a broken air conditioner. In some case's all that's needed is to refill your air conditioner with refrigerant. Sometimes it may be very costly, and you may want to invest in a new unit.
Air conditioner repair can occasionally be something simple, such as a recharge of the refrigerant in your air conditioning unit. Occasionally an air conditioner repair will be quite costly, in some cases our technician may recommend a newer model that will be more efficient, reliable, and cost effective in the future. Our skilled staff have worked with a variety of heating and air conditioning equipment, from commercial to residential and anything in between. We offer the highest quality ac repair michigan has to offer.!
We Are Available For Emergency Service in Southeast Michigan!
Residential • Commercial • Industrial • Heating and Cooling!
Shelby Township • Macomb • St Clair • Oakland

It can be a hard decision at times whether you should repair or replace your ac unit. Our technicians will educate you and provide you with information to make the best choice. Sometimes buying a newer unit can be cheaper than repairing your current air conditioner. The saving's you will receive over time will be much greater depending on the age of your current unit.
We provide air conditioning repair macomb, sales, and maintenance to Southeast Michigan. Commercial or residential comfort solutions are provided at an affordable price. Shelby Township, Chesterfield, Sterling Heights, Macomb, Oakland, St Clair and the majority of Southeast Michigan can rely on Hutchison Mechanical. We are among the top rated heating and cooling companies in Michigan.