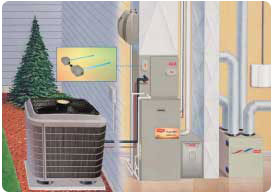 Forced air systems are generally the most common. These systems typically run off of natural gas or propane. Forced air heating & cooling setups are more efficient for most standard applications. A heating & cooling system (sometimes called a H.V.A.C. system) is broken up into many parts. H.V.A.C. stand's for Heating, Ventilation, and Air Conditioning, the three main functions of a home comfort system. The atmosphere inside your home is controlled by your heating and cooling system. Humidity, air quality, temperature, are all controlled by your heating and cooling system.
Most furnaces work on the principle of bringing in a fuel source and combusting it to produce heat. Air is forced throughout the duct work to distribute the heat throughout your home. Attached to many heating and cooling systems is a humidifier to regulate humidity in your home. Humidifiers can be very effective in helping with many ailments. All of the air that is sent throughout your home is filtered. Regular maintenance of your filter is recommended for optimal performance. Some furnace filters require you to clean them manually over time. These filters can save you money and in many cases provide more air-flow.
Call Now for Assistance
(586) 786 – 0060
Living in Michigan guarantee's that at some point you will have a concern regarding your furnace. Certified technicians at Hutchison Mechanical will be available for any questions you may have. Whether you have a commercial or residential property we have an affordable solution for you!
Free gas furnace information and quotes in Michigan.
Residential & Commercial Heating and Air Conditioning
Licensed and Certified Heating and Cooling Professionals!
Gas Furnace Information Michigan Macomb County | Shelby Township !
Interested in the cost of a furnace? Contact Us for free information!
Proudly Serving Macomb Mi and Southeast Michigan Since 1932.
We Provide FREE Information | Never Hesitate to Call!
Highest Efficient Products | Best Prices in Michigan | Licensed & Certified
We offer a variety of different solutions to suit any customers unique need. Geothermal, Ductless Mini Splits, Gas Furnace Repairs, interested in the cost of a furnace, or replacement parts we provide free information & much  more!