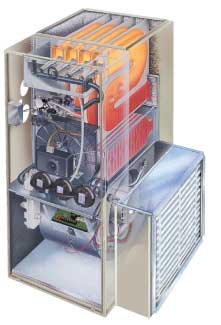 We have technicians available at a moment's notice. Living in Michigan can be tough during the cold winters. There are a variety of parts that may malfunction in your heater.Regular service can prolong the life. In the event of a broken heater or malfunction of any kind we can have a technician out to you immediately. Our technicians are certified to properly assess and repair any broken furnace. After our heating and cooling repair specialists discovers the the problem, they will educate you about the issue and costs involved to repair your heater. Our warehouse contains a large supply of replacement parts for any industrial, commercial or residential furnace.
Mi. Furnace Repair Based Out Of Macomb County!
Chesterfield Twp • Shelby • Sterling Heights
Heating and Air Conditioning Repairs!
Bryant Parts • Troubleshooting Gas Furnace Issues
We Know How To Fix a Furnace Of Any Brand Or Style.
Heating and Cooling Services since 1932
Call Now for Assistance
(586) 786 – 0060
Our certified technicians can educate you about any aspect of your heating and cooling system. We provide free information so never hesitate to call us with any questions you may have. Whether you have questions regarding new furnace costs, gas furnace repairs, efficiency, popularity or how much savings you can expect we will have an answer for you.

Our company is located in Macomb County. Providing local families in our local area with heating and cooling services is our driving force.
We have provided jobs to almost every city in Southeast Mi.
The gas heater is an appliance looking like a sizable box that does these:
consumes cold air, cleans it having an air filter, heats up using a gas burner utilizing a heat exchanger, then distributes the nice and cozy air using your blower motor to push it throughout your home's duct work. The heat then cools down inside your home's various rooms and returns to the unit through return air grills and duct-work. Furnace repair michigan is best handled by the professionals at Hutchison Mechanical.
The cold returning air enters back with the air filter to the heating unit to accomplish another heating loop.Sometimes there is a humidifier attached to the unit or the return air duct-work.There are many different efficiencies measured in AFUE. Occasionally everything doesn't work quite right and you have to troubleshoot an issue.
Most newer furnaces have electronic ignitions and need special troubleshooting.
Cold Michigan weather comes quickly!
No matter if you're going for your daily walk, waking up to goto work, or even shoveling the piles of snow outside your house, keeping warm and comfortable is the main priority. Staying bundled up and wearing the proper clothing is as imperative as keeping your heating and cooling system up to date with maintenance.  When the bitter cold weather comes the last thing you want is a broken heater.
Customer service and satisfaction comes first! Putting our customers first and providing exceptional service is how we do business. Word of mouth goes a long way, providing exceptional service is the key to our success. Being in business since 1932 and famiy owned and operated we have learned a great deal with regards to customer service. Guaranteed best heating repair michigan has to offer!

Licensed HVAC in Southeast Michigan!